xmas
Looking for that unique last-minute gift for Christmas or New Year's? The staff at Renderosity Magazine have traveled to the ends of the known internet to bring you the most interesting and unusual gift ideas. From tech to musical instruments, we think you'll find this list inspiring.
Each item comes with a brief description and direct links to learn more and perhaps purchase. We wish you the very best during this 2017 holiday season.
---
Nick
The Art and Science of Ernst Haeckel
A bit of inspiration for any illustrator with a love for the finest of details, this wonderful book, The Art and Science of Ernst Haeckel, would make an excellent gift. Ernst Haeckel (1834-1919) was a German biologist, evolutionist, philosopher, and artist. Finding beauty in biological creatures, his illustrations of flora and fauna are captivating and an excellent source of inspiration. This book from Taschen is a collection of 450 of his finest works.
---
LED Light Pad
Earlier in the year, I reviewed a product that holds a number of artistic uses: the Huion LED Light Pad. It is a thin, lightweight, illuminated surface that can be used for tracing, comics, animation, and even for sand art. Available in several sizes, it offers an even source of light and perfect, gradual control over light intensity. Check out my review for more details, and see if this might not be the perfect gift for someone on your list.
---
Gourd Banjo Kit
A couple of years ago I was gifted a 5-string banjo - something I always wanted to add to my collection of instruments. I've still got much to learn, but I love it. And despite the jokes that normally follow this instrument, there is no denying its unique sound. Add in the different ways it can be played, and it makes it even more fun. And, of course, you don't need teeth to play it.
The banjo has a rich history, with the first ones constructed in Africa with gourds. Here is an excellent basic gourd banjo kit which would make a great gift to give someone the joy of building and customizing their very own:
And just for fun, and perhaps a bit of convincing for those opposed to the banjo, you can read about 9 Ways the Banjo is the Best, by Dr. Josh Turknett:
---
MHaase
Rocketbook Wave ($27)
This creative little notebook is useful enough in that you can instantly scan its pages into your smartphone or tablet and have your handwritten work instantly backed up via the cloud. What makes this quirky book all the more cool is that it is reusable. Just pop it into the microwave and the pages all erase, leaving you with a clean, new notebook once more.
---
Lego Architecture Studio 21050 Building Blocks Set ($159.99)
Lego gets seriously creative with this kit of 1,210 monochromatic blocks and a 272 page book written by leading architects to help guide you through the process of learning fundamentals of architecture while having fun in the process. The blocks are compatible with all other Lego sets, allowing for endless creativity.
---
100 Essential Novels Scratch-Off Chart ($35)
A little fun for the reader in your life. A large poster featuring 100 classic titles, each with a gold scratch-off area to be removed when reading is complete. Each scratch-off area hides a fun piece of book-specific artwork for the reader to enjoy. If you are also looking for something for that movie buff in your life, there's a "100 Classic Films Scratch-Off Chart" as well
---
Barbara Din
Rekonnect Magnetic Notebook. It's like a traditional moleskine, but updated. It has magnetic pages so you can rearrange the pages inside the notebook, or take one away without damaging the rest. You can even work with the page outside the notebook and when you're done, you put it any order you decide. Watch the video below to see what I mean:
---
Art Merch
You can find the favorite artists of your loved ones and chances are, they sell some kind of printed artwork on stuff. Today you'll find a lot of choices to give art as a gift that they can wear of use. Apparel, home decor, stationery, device cases... from t-shirts and leggings to wall clocks and duvet covers, you can't go wrong. Of course it could also be just prints: today there are some fancy, unusual options even for that, like print on metal or acrylic blocks.
You can find some amazing things in places like RedBubble or Society6, but I suggest you find some of the artists your loved one likes and see if they have a website. Most probably you'll find what they sell there, or a link to the site where they sell their merch.
---
Camera Lucida
A device that was invented in the 1800s, and is both fun and useful for any artist. It is a drawing aid that lets you draw what you see in front of you. Take a look below:



There are a couple of manufacturers that make it today, like Lucy Drawing Tool and NeoLucida. This will surely make an original gift! And if you want something that seems more up to date but does the same job, you can get them the app, both for Android and Iphone.
---
Ricky
The Horn Phone - iHorn. A large brass accoustic speaker upright horn dock and system docking station. I love etsy.com because there are so many inventive and talented craftspeople there selling their wares. This old-fashioned dock for the iphone caught my eye. It's being sold by woodguy32 and it's awesome. Check the 188 positive reviews for this unique item. Sound is great, too!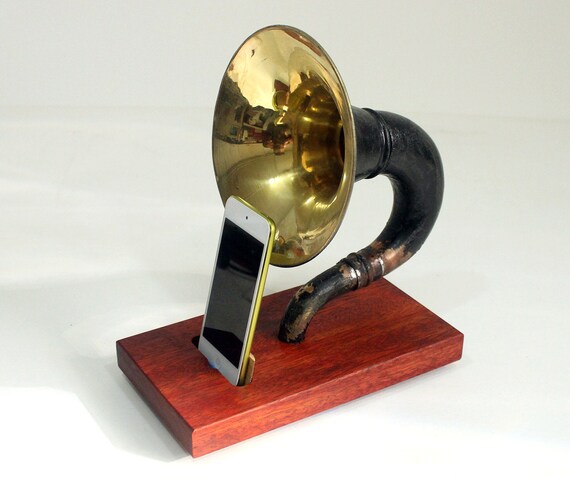 Link: https://goo.gl/x8kXzX
---
Two-Dollar Radio Indie Publisher Specials!
If you want to give the gift of seriously cutting edge fiction, Two-Dollar radio is a co-op publisher that has a collection of authors you won't find anywhere else. Seriously great reading. They have several good deals. I recommend the Blind Date sale where you get two random backlist titles for the price of one ($9.85).
Link: https://twodollarradio.com/collections/sales
---
Vincent van Gogh Action Figure.
Yes, you heard that right - an action figure for the most famous artist in the world. Made by todayisartday.com, the figure figure comes with 2 removable ears and several masterpieces with cardboard easel. They have other artist figures as well. Try Vermeer or Leonardo or Magritte!
Link: https://goo.gl/Kz7oMt
---
That's our list for 2017. Hope you like them. If you are interested in any of these unique Christmas gifts, just follow the link provided.